By Tenisha Mercer
www.HairNista.Blogspot.com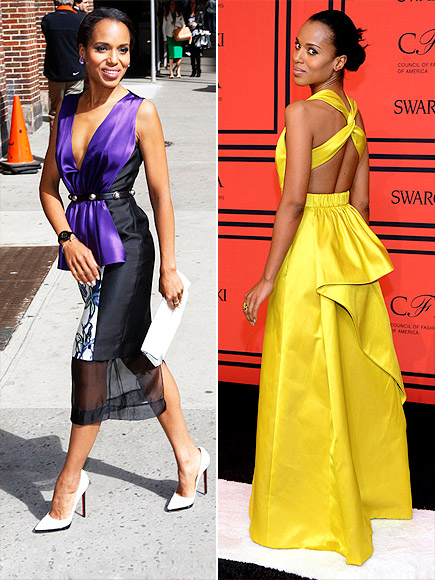 Credit: Richie Buxo/Splash News Online; Dimitrios Kambouris/WireImage
Gladiators already know: ABC's "Scandal" actress Kerry Washington is one of the most fashionable women on prime time TV, but
People
Magazine recently confirmed it by naming the actress the "World's Best Dressed Woman" 2013.
What an honor for the 36-year-old, Emmy-nominated actress.
"I don't wear a lot of pants," Washington said in a statement announcing the honor. "When I go somewhere I want to know I'm going to be comfortable and I'm dressed for the event."
People Editors bestowed the honor upon Washington because of her never miss style.
"I like to find balance in an outfit where it doesn't feel too much of any one thing," she told PEOPLE. "It's not dressing like a nun and it's also not dressing like I'm in a swimsuit competition. It's finding the middle ground."
People magazine Executive Editor Elizabeth Sporkin lauded Washington's sense of style.
"There has been a trend this year in lady-like fashion and I think she is almost single-handedly responsible for it," Sporkin said in an interview.